Domainerelite Pro includes the Software, instruction, training and resources to buy and sell them for huge profits. But make no mistake, DomainerElite is much more than a course on "how to sell domain names" as it solves one of the hardest problems, a problem that had previously made domaining undesirable. It actually FINDS good Domains that will SELL. Buying a domain for $9 and selling it for 20 times more than you bought it for at a high frequency again & again is very desirable, and therefore this is why this program was such a big hit.
We have made these very powerful improvements to the software:
Number #1: We have added 3 new criteria to the search capability: Instead of just using keywords, trends, starting and ending words, we have added three new "surprise criteria." Just wait.
Number #2: You can find premium domains, as well as godaddy auctions without having to search individually on godaddy using the search function
Number #3: We have improved overall flexibility when using the software
Number #4: We have introduced a marketplace inside of DomainerElite where you can list your domains for sale and actually sell them, this will be available as an upgrade within the sales funnel for $97 a month. This is actually a great deal as you can have them hosted for sale wherever you choose, Godaddy premiums, Flippa, even privately using escrow.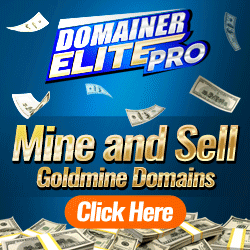 Number #5: Multi-tier Affiliate program
Number #6: Expired Domains: We now will have an automatically updated, heavily filtered and sorted expired domain name database. Previously, we updated the expired domain names manually, as we felt this was the best way to make sure we achieved the highest quality inventory. Now, we have three very ideal algorithms that enable us to import an excel file and if the domain fits this criteria, it will be added to the list. This will result in literally thousands of amazing, no BS quality expired domain names available for purchase.
Number #7: The ability for users to advertise not only their domain names but their affiliate link as well.
So basically, you can find domains using our newly updated complex functionality, purchase them for $9 and sell them directly within DomainerElite, utilizing the DomainerElite marketplace.