Languages: EN
Description:
Crypto Source Ltd. Company is a service of remote cryptocurrency mining offering a simple and safe alternative to buying own computing powers. Safe and beneficial cloud-mining along with a number of our unique solutions is available both for large and small investors who do not possess a great starting capital. An effective network of algorithms, a developed mining infrastructure, and specialized mining software for supervising the work of mining farms are the factors that allows us to reasonably announce ourselves the leader in our field. Our company's offer is a simple and contemporary way of investing own assets into cloud mining of such cryptocurrencies like Bitcoin, Bitcoin Cash, Bitcoin Gold and Ethereum. We serve both professional investors with many years of experience in profiting from cryptocurrencies and new miners who only being their path in mining and are willing to receive an easy access to profitable digital assets.
Investment plans:
1.5-5% daily for 90 business days
Our deposit:
05.01.18 13:24
Transfer
Sent Payment: 170.00 USD to account U15270095 from U1294xxx. Batch: 200891212. Memo: Shopping Cart Payment. Deposit to CRYPTO SOURCE LTD. User CS00123.
Details:
Minimal deposit: 50$
Maximal deposit: 1000000$
Referral comission: 5%-3%-1%
Payments: Manual
Features: SSL,DDOS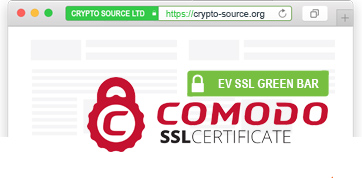 Whois:
Registrar Info NameNameCheap, Inc.
Important Dates
Expires On2022-11-04
Registered On2017-11-04
Updated On2017-11-18
Name Servers
NS1.DDOS-GUARD.NET 186.2.167.18
NS2.DDOS-GUARD.NET 186.2.171.33
NS3.DDOS-GUARD.NET 190.115.26.202
NS4.DDOS-GUARD.NET 186.2.171.34